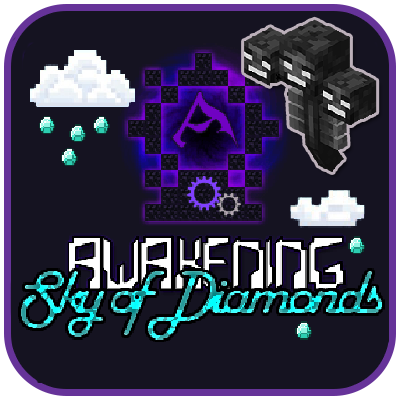 Awakening - Sky of Diamonds Hosting
We provide the best Awakening - Sky of Diamonds server hosting you will find.

>>> OP fun & serious silliness in the sky! 400+ mods - 1000 quests. From the creators of Awakening. <<<
Questions
Launch Server Now
Instant Free Trial (Vanilla)
Features
Included for all Minecraft: Java Edition plans including Awakening - Sky of Diamonds
Instant Setup
Servers are provisioned instantly. Skip the waiting!
One-Click Modpack Installer
One-click modpack installer for tons of popular Minecraft modpacks.
Version Switcher
Switch between Minecraft versions and JARs with a click of a button. Versions are constantly auto-updated for JARs such as Paper, Vanilla and Snapshots & release-candidates
Fantastic Game Server Panel
Game server panel for all your customising needs.
See More
DDoS Protection
Our Network is protected against DDoS attacks. Keep your server online!
Automatic Tasks
Schedule tasks such as backups and commands to run whenever for your server.
The Best Game Hosting Features For You
These features come standard in all of our game hosting plans.
Customisable Panel
Our intuitive game panel let's you customise your game server with all kinds of neat features.
Support from Real-Life Human Beings
Gaming veterans are all working to optimize your experience to make the service as smooth as possible.
1-Click Installer
Install your favourite modpack with 1 click – because messing with files is annoying.
Fast Servers
Our available server plans make sure players have a smooth experience in-game. No lag!
Solid State Drives (SSD)
SSDs are a must in game servers nowadays. With SSDs, your game server load times are faster.
Free Subdomain
Give your server a presonalized address to make it easier to remember when connecting.
Our Game Server Panel
Our game server panel is comprised of the most popular features you may want for your server.
The game panel is backed by custom tools, features and conveniences installed by us to help you out.
Check Out Demo Panel
Prioritized Usability
Start, Stop and Restart your server
Create, Delete, Open and Edit files
Access and use the server console
Edit game-specific settings and configurations
Extra Features
Create and access databases
Add subusers to access the server panel
Schedule restarts, commands and backups
Change startup parameters
Smart Features
Auto installer for popular modpacks for different games
Auto installer for different game versions
Performance and resource monitoring
Download and Restore using cloud backups and daily system backups
Neat Features
Create and view extra port allocations
Intall Mods
Intall Plugins
Intall Modpacks
Frequently Asked Questions for Java Edition servers (including Awakening - Sky of Diamonds)
It's common to have questions before ordering your Minecraft service. Here are the answers to common questions that we get.
Global Network Regions
The 365Hosts optimised network offers low-latency across Europe and America, enabling you to deploy your server in a low-latency environment. Hosting locations are in USA and UK with announced plans for Germany by late 2022.
365Hosts Discord Server
Join our brand-new Discord Server for tips and tricks and interacting with admins and clients.